Need to know more about Poco F1 Display Price? The Poco F1 made by Xiaomi has been labeled as a flagship killer because it has the looks and the features of a flagship design still it is extremely affordable. It is also possible to run into trouble and end up dropping the phone and then you require the Poco F1 display replacement. There are many customers facing a broken display issue and looking for reliable solutions to fix the problem.
If you are also dealing with a broken Poco F1 screen then we have its 100% original combo available here. As It is a big phone and having 6.18 inches screen, it can be overwhelming to some hands. If you are not used to big phones you might find yourself dropping your Poco F1 if not careful. When the Poco F1 screen broken, then you will need to buy a screen replacement and then get the installation done. This is also possible to easily do and get back a fully functional phone and at very low costs when you know where to look.
Sometimes you might find your Poco F1 display not working because of issues that you cannot really understand. This can happen for any phone out there not only this one. The screen might become unresponsive, it might start reacting unexpectedly or having other such touch screen related issues. This is regardless of how well you might have protected your phone. Physical damage is not always the case when you need a screen replacement. If you have pressed the phone extremely hard under the pillow, you will start facing weird problems. In many cases, you won't even understand the underlying cause of the problem but still a screen replacement is mandatory.
How To Replace Poco F1 Combo
Once you have a broken or non-working Poco F1 combo, you need to replace it with a new one. Assuming now that your Poco F1 has a screen problem that you want to be fixed, the question is what is the best process to do this? We have outlined the best way for you to follow so that you can get value for your money in Poco F1 screen replacement.  Here is what you should do;
Identify what you want – It goes without saying that you have met someone who has a phone with a cracked screen and they are not bothered by it. However, the way you handle and keep your phone can really say a lot about your personality. If you do not like carrying a phone with a broken screen that looks beaten and ugly, then you should change the screen. Making this decision entails your first step for a successful screen replacement. After you have made the decision that you really need the screen change, then it is time to go hunting for one.
Look for Poco F1 screen online – It is better to shop for your Poco F1 screen online. You will enjoy better prices, you have many places to choose from, you can shop at the convenience of anywhere you are, you get all the information you need about the product right there, you may get free shipping and it saves you a lot of time rather than hopping from one shop to the other. You also get a wide variety of websites to compare which ensures value for your money. Always keep in mind that cheap priced mobile phone screens are always compatible ones. So If you have a tendency of running behind cheap deals, beware,as you may end up getting a non-original display. The screen which is being sold on LCD Kart is 100% Original, tested and comes with money back guarantee.
You should have some characteristics in mind when shopping for the Poco F1 combo. First of all, ensure that the product you are purchasing is the genuine product. Always keep in mind that Genuine products will be reasonably priced but will not be cheap.Also, since you are shopping online it is imperative that you choose the vendor you will be working with quite meticulously. First look at their reputation in selling parts. Have they been doing it or it is just another one of those online businesses that have just started this second.
Experience is important because it will give you the assurance that the people you are dealing with are professionals and aware of what they say. You do not have room for guesswork or mistakes when you are purchasing for things online. The vendor should also have impeccable customer care and their website should have a user-friendly interface. They should not be afraid of stating who they are and where their business operates from. If you find a website that has a lot of hidden information it might raise a red flag. Finally, check for their payment options and be sure that they have put the necessary security measures in place to ensure your safety as you purchase the Poco F1 display combo online.
Make the purchase – After you have found the right vendor with the original Poco F1 display screen, then it is time to make the purchase. You can purchase online through the various methods being offered by the website. After you have made the purchase, the product will be shipped to you and then you can go to the next step.
Find a repairman for installation – It would not make any sense if you went through the trouble of ensuring you get the original Poco F1 display only to have it poorly installed. Here again, you will need to do due diligence to ensure that you get the very best installation person. There will be many around you and maybe now using other people as references will go a long way for you to identify the best one.
Poco F1 Combo's Specifications
Authentic and brand new display and touchscreen combo for Poco F1.
The display resolution is 2160 by 1080 pixels and 403 PPI
Full warranty on the quality of the product with no hidden charges.
100% Fully Functional tested parts with 30 days replacement guarantee.
Each piece is manually tested by expert technicians before shipping.
All Poco F1 combos are tested on actual motherboards so no guessing, just original and functional parts guaranteed.
100% Customer Satisfaction is our main motive.
High-Quality Photos of Actual Poco F1 Combo
These photos demonstrate the actual product you will be getting. The Poco F1 combo you are seeing here is 100% Original, tested and comes with the money back guarantee. Each combo is verified for working before dispatch so there is literally no chance of getting a defective combo. As you can see, display and touch screen both parts are combined and you always need to replace complete combo.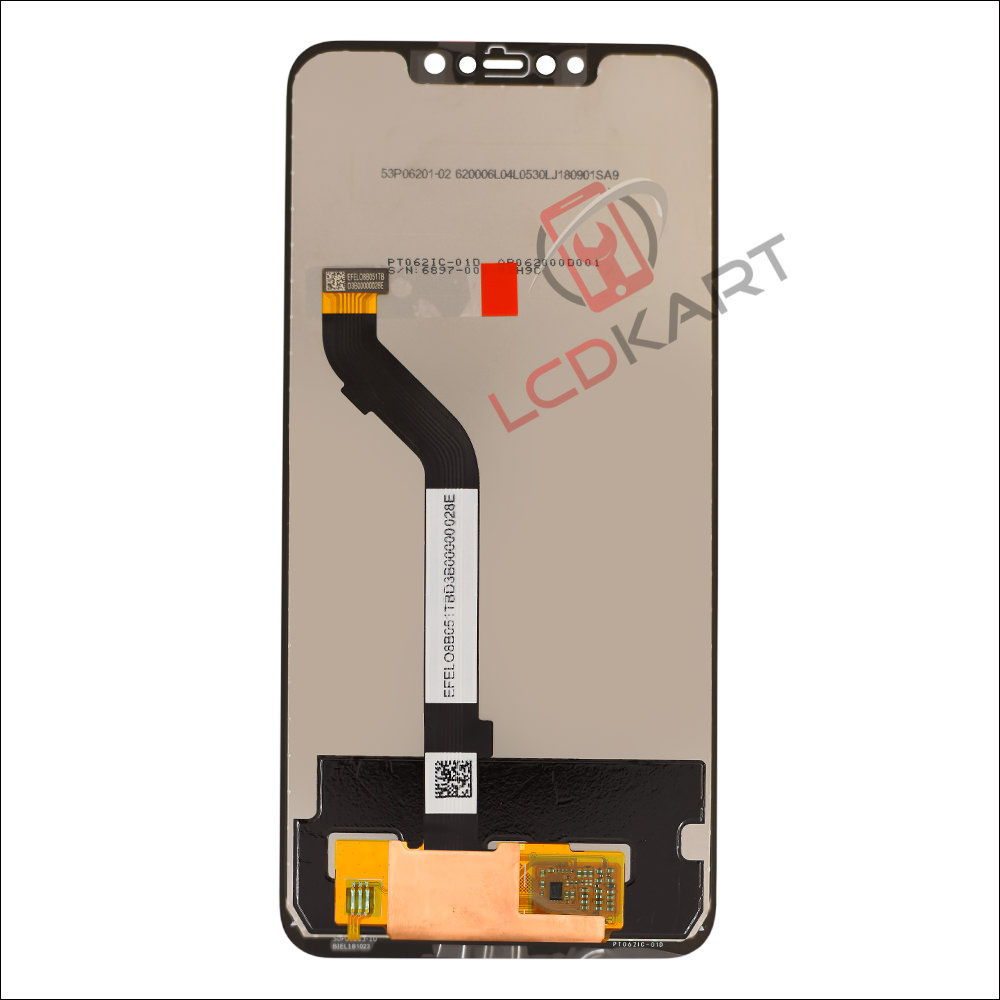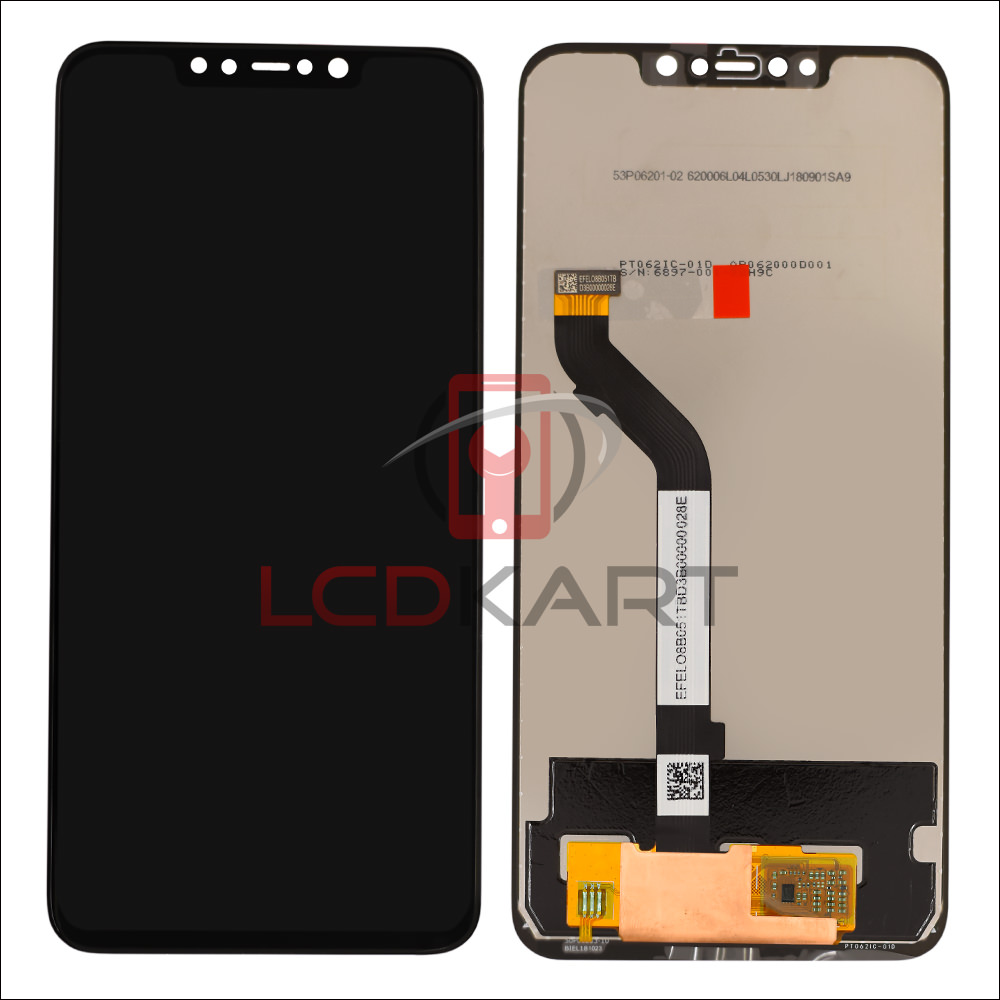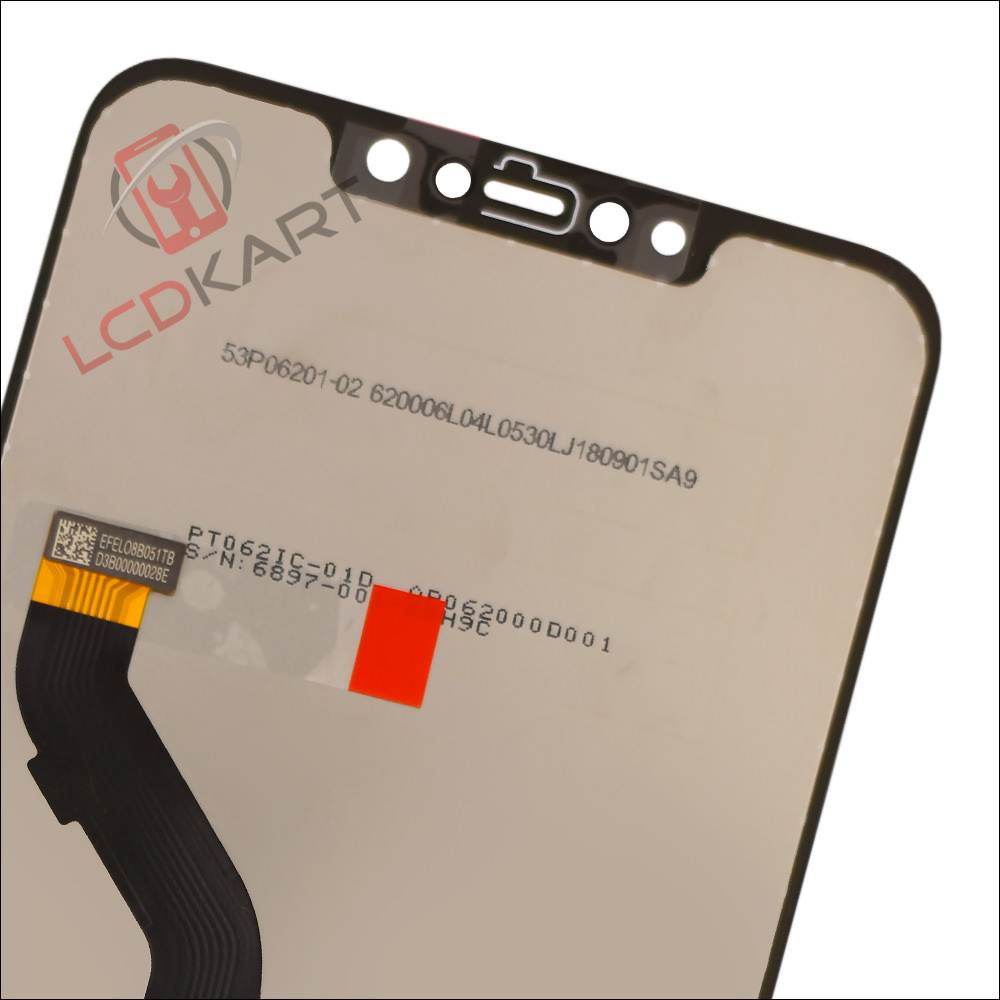 Frequently Asked Questions
Customers who are looking for a display replacement usually have tons of questions in their mind. Customers have created their own theories of Original display while they really have no knowledge of how this industry works. Some irritating customers want to impose their fake knowledge (which they have gained from forums, their so called intelligent friends and other unverified sources) on us. We suggest that you don't pay attention to unverified knowledge because that will put you in a chain of more doubts. You will get to a point where you can't trust any vendor and will stay always skeptical.  Some frequently asked questions are :
A) How much is the cost Of Poco F1 Display Screen replacement in India? 
If you have decided that you will do the Poco F1 display glass replacement, then it is time to worry about the price. The Poco F1 original display price is affordable regardless of the fact that it is a very modern and stylish screen. Original screen Poco F1 screen will cost you about Rs 2500-3500 (Prices go up and down all the time) while a compatible non-original combo can be purchase for Rs 1500 or less in local markets. Please note that we are NOT offering any compatible parts but all parts supplied by us are 100% Original.
B) Is there any warranty for the Poco F1 broken Screen?
There is absolutely no warranty on a broken screen as a damaged display is certainly customer's fault. Poco F1 screen comes with the manufacturer's warranty of 1 year that only covers the dysfunctional display replacement. That means any accidental or liquid damage will not be covered under this warranty. If you have a blank screen or white screen or linings on the display, It will simply not be replaced. This is because all these symptoms are created by a physical damage. Meaning, if you drop your phone and broke it you will pay for it yourself. Any other damage which is a result of your mistake is always out of warranty.
C) How can I replace Poco F1 glass only?
There are tons of customers looking to replace only glass while that is the worst quality solution to the problem. Anyone doing quality display replacement never recommends only glass replacement. This is because when you opt for glass replacement, you are paying huge sum of amount for "Glass". It means that you are just getting your broken display repaired anyhow. The glass used to replace the broken glass is never a gorilla glass but a very thin cheap quality glass. So you are on the risk of breaking your phone again in a very short duration as newly replaced glass will not withstand for a long time.
On the other hand, only glass replacement will degrade the overall quality of your phone. This is because dust particles, white and yellow spots, dead pixels usually appear during separation process  and end result is never satisfactory. So you will end up spending money and getting dis-satisfactory results in return. That's why only glass replacement is not recommended from our perspective.
D) Can I replace Poco F1 Combo myself at home?
Absolutely! Only if you are confident in your technical abilities and are aware of Poco F1's internal design. There are many videos on YouTube that demonstrate the installation of new screen. Hence, it is possible for you to make the display combo replacement yourself. Although, we do not recommend doing the screen replacement at home because you will need buy tools and that will result in spending more money. Many owners try to repair at their home and fail in doing so, which in turn forces them to visit a repair shop, spend more money and time on parts replacement.
The best practice will be buying the original display online and then visiting a experienced technician for installation. This way, you can ensure that you will get perfect value for your money without any additional hassle.
E) What you get when you order from us? 
Through ordering from us you will receive 100% genuine Poco F1 display and touchscreen combo. We are selling this in Combo format only as that is the best thing you can get for your phone after a broken screen. Despite the fact that tons of other cheap solutions are available, we don't recommend them because of quality reasons. The screen which we supply is 100% original, tested and comes with money back guarantee for any defects.
F) Which Color's screen should you buy?
Please always keep in mind that display is always Black in all variants of Poco F1. You must be having one of these variants of Poco F1. Poco F1 comes in 4 variants :
Armoured Edition
Graphite Black
Rosoo Red
Steel Blue
It is worth mentioning that display's color is ALWAYS black in all variants. The back side of the phone can be anything but front side will always be black. So there is only one type of screen which is suitable for all variants so don't confuse yourself.