Are you searching for the Nokia 6.1 display and touch screen digitizer glass? A complete folder of Nokia 6.1 is available on this page which can be used to replace a broken display or touch screen glass. Please keep in mind that display and touch screen glass are closely combined. So it doesn't matter if you broke the display or the touch screen glass or both because you always have to replace the complete combo.
What is the Nokia 6.1 Display Combo/Folder?
You should know that Nokia 6.1 display combo is the most important part of your smartphone. The combo uses folder technology, combining the display and touch screen glass into one. The resultant unit is called a combo/folder when the display and touch screen glass are fixed together.
When the Nokia 6.1 display breaks (either display or touch screen glass), you must replace the complete combo to ensure performance. It is not advisable to replace only the display or only the glass. If you do that, you will compromise the quality of the display, and the results will not be satisfactory.
The Nokia 6.1 display doesn't work. What should you do?
Don't panic! Although an unresponsive smartphone may seem like the end of the world in today's fast-paced world, it isn't. If your touchscreen is unresponsive or damaged, you must replace the Nokia 6.1 broken screen with a new combo set.
It is very important to replace the broken display screen to avoid further damage to the phone, and it should be done as quickly as possible to safeguard your phone. We strongly advise replacing the touch screen immediately. Before the broken touch screen glass starts hurting your hands, you should consider replacing the complete combo.
PACKAGE CONTENTS
Inside The Package
1 Piece of LCD Touch Folder for Nokia 6.1
Product Quality
Brand New (compatible, A+ Grade/non-original)
DISPLAY COMPATIBILITY
Compatible Brand
Nokia
Compatible Model
Nokia 6.1
Compatible Model Number
TA-1089
DISPLAY SPECIFICATIONS
Display Size
5.5 inches
Display Type
IPS LCD, Full HD
Display Resolution
1080 x 1920 pixels
WARRANTY INFORMATION
Warranty Coverage
Manufacturing Defects only
Warranty Type
30 days testing warranty without pasting
Warranty Coverage
Return to Seller via Courier
DELIVERY INFORMATION
Available Courier Services
Bluedart / Ecom Expres / Delhivery
Delivery Time
3-6 days, depending on the location
Delivery Type
Sealed Packages with Intransit Insurance
Common Questions and Answers
Today's technical advancements allow us to interact with our customers anywhere at any time. To meet our customer's needs and guarantee customer satisfaction, we try to answer the questions that you, our customers, frequently ask. We are available to answer your questions and provide further information about the products we sell.
Q: How much does a Nokia 6.1 display replacement cost in India?
A Nokia 6.1 display replacement costs around Rs 1800-2000. We offer A+ grade display replacements which provide amazing display quality and clarity for a very reasonable price. You can order the display online and install it with the help of a local technician.
Q: Who is the best dealer for your Nokia 6.1 display?
If you choose a quality Nokia 6.1 display screen replacement for your phone, selecting LCD Kart is the best choice. Our experience and reliability in this sector will provide you with confidence when purchasing. Our personnel regularly test and market the original parts our suppliers provide.
We test each product that we sell to guarantee you, the customer. We want satisfied customers, which is important for our reputation and increasing our customer base. We want you, our customer, to be satisfied with our products and happy with your purchase.
Q: Is there any warranty for the new Nokia 6.1 combo?
Yes, you get the new display combo with a testing guarantee. When you receive the product in your hands, you should test it by connecting it to your phone's motherboard in open condition. The testing guarantee allows you to test the display by connecting it to your phone's motherboard without pasting/fixing the product. You can fix the display or remove the screen guard only after verifying its working condition. Once you remove the screen guard and fix the display, you can't return it anymore.
Q: Can I replace only the touch screen glass?
Yes, You can. However, this is not an option that you would wish to consider. We strongly advise against this option and anyone suggesting it as a solution. You would risk having your display not function correctly and causing further damage to your phone.
The touch screen glass replacement is based on replacing the broken glass with a duplicate glass. This solution is growing rampantly in the local market because it makes money for the technicians. A technician sells a duplicate touch screen glass for more than Rs 1000. That's why technicians encourage customers to replace only the glass to make a handsome profit.
Q: Can I replace the Nokia 6.1 display myself?
Maybe. This is a possibility. You can replace the broken combo yourself, but this depends entirely on your technical knowledge and skills. There are numerous video tutorials available; however, you do so at your own risk. It is advisable to use a trusted professional to install your new Nokia 6.1 display combo.
Q: If I order from you, what will I receive?
Upon ordering from our web store, you will receive a Nokia 6.1 display combo suitable for model number TA-1089. Your order includes both parts, the display and touch screen digitizer glass. You can easily replace the broken display panel with this product.
Q: Do you sell the touch screen glass separately?
We typically don't sell only the touch screen glass, but you can try to use the search feature to see if you find the desired product. We don't recommend replacing only the glass because that's not the recommended approach.
Q: What is the warranty period after installing the display?
Many customers want to safeguard against any future mishappening and ask about the warranty period after installing the new display. Please note that the Nokia 6.1 display comes only with a testing guarantee and there is no such afterward guarantee which will act as insurance. Once you've tested and verified the display and installed it on your phone, the warranty is void. After installing the display, it is the customer's responsibility to ensure the safety of the display, and the seller is not responsible for that.
Q: How do you check the Nokia 6.1 display before dispatch?
Lcdkart has a consolidated team of expert engineers who test the display combos by using the actual motherboard of Nokia 6.1. They use their experience in testing the Nokia 6.1 combo, and if the combo fits the phone (and meets our quality standards), Lcdkart dispatches it. If not, we eliminate it.
Q: I've had the Nokia 6.1 combo delivered a week ago. Now, I wish to return it. Can I?
Kindly write to us about why you want to return the Nokia 6.1 display unit. You may talk to us on 8302263606 about the same. If there's something our team can help you with, we'll try. The written reason must seem genuine to our experts, and only then can we refund the combo amount. So, ensure that your reason isn't something bogus like "I no longer feel like keeping it."
Q: I have removed the stickers and labels from the Nokia 6.1 combo. Can I still apply for a return?
We are afraid that our return policies forbid us from accepting back Nokia 6.1 display units that are not in a brand-new state. Since we sell brand new combos, we accept only unused returns. So, even if your reason is authentic, we are sorry to be unable to take it back.
Nokia 6.1 Display Images
These photos show the Nokia 6.1 combo you'll receive after your order. This is a Nokia 6.1 display combo consisting of display and touchscreen glass. All you need to do is, take out the broken combo from your phone and fix a new one in place of that.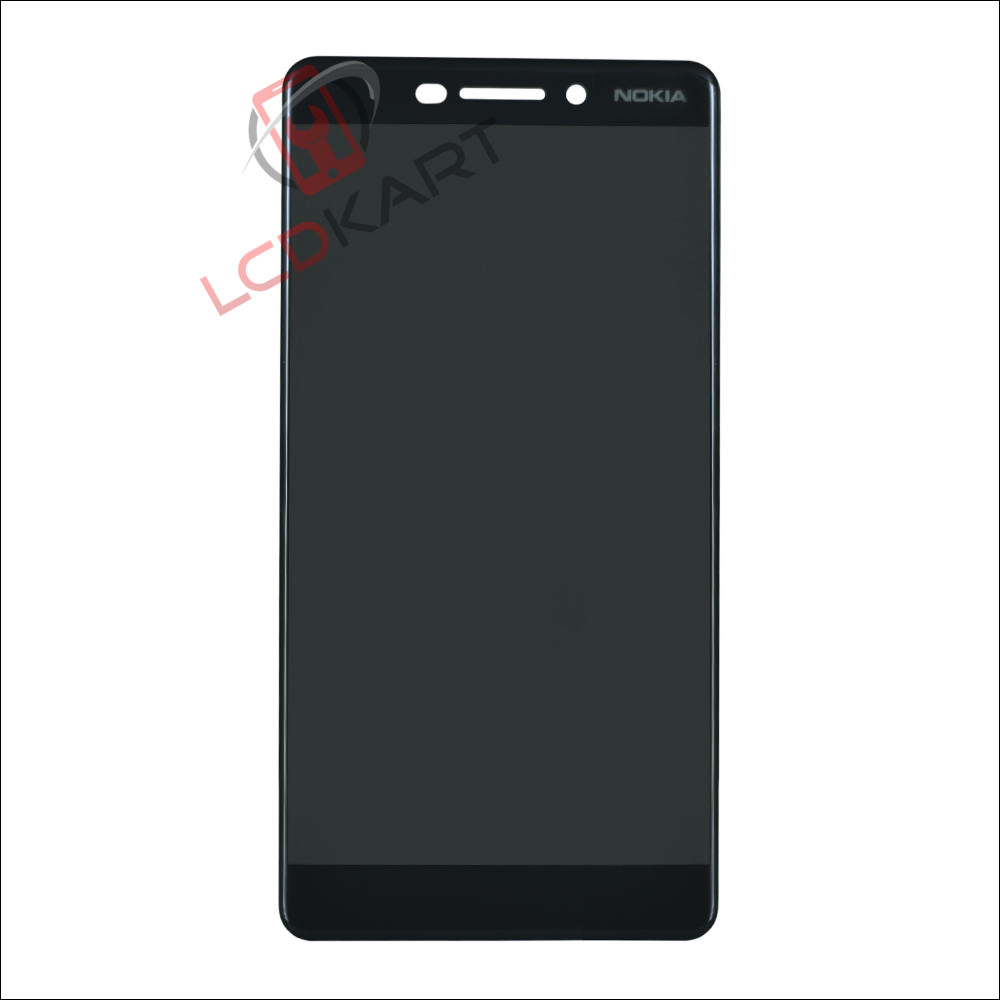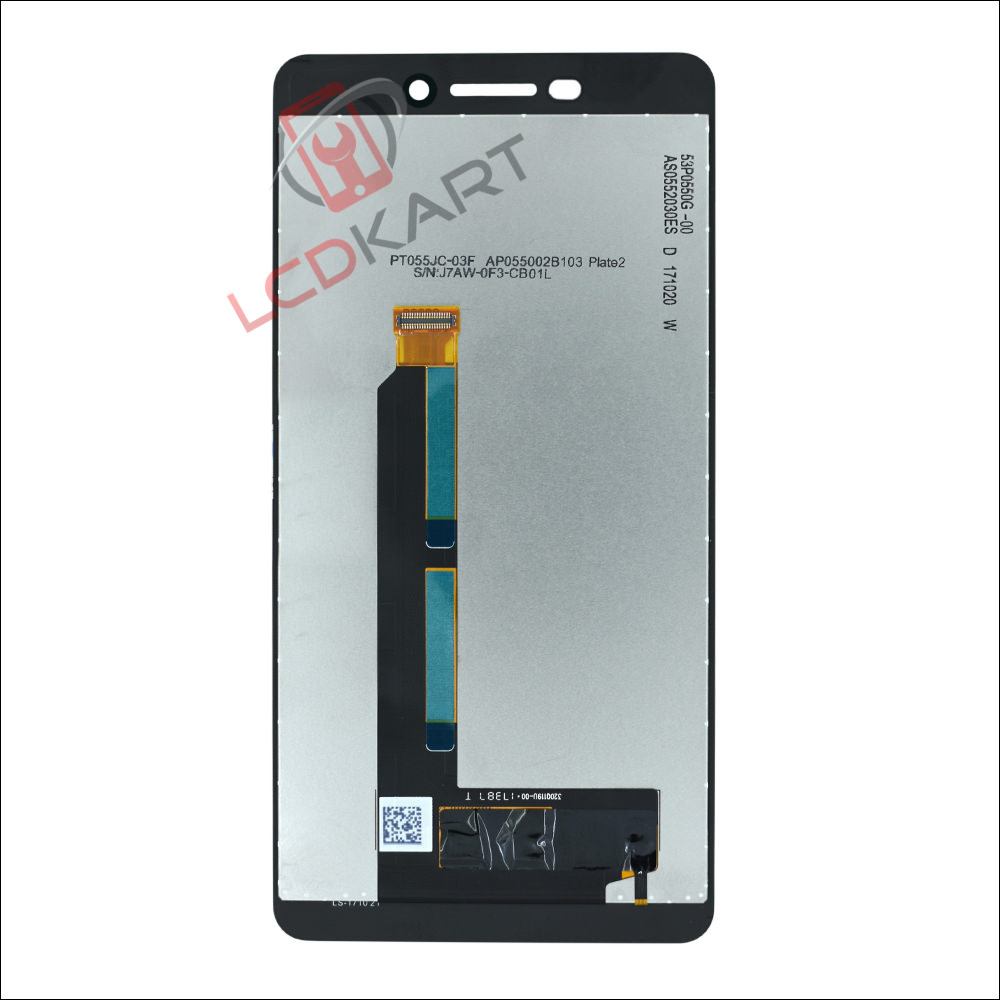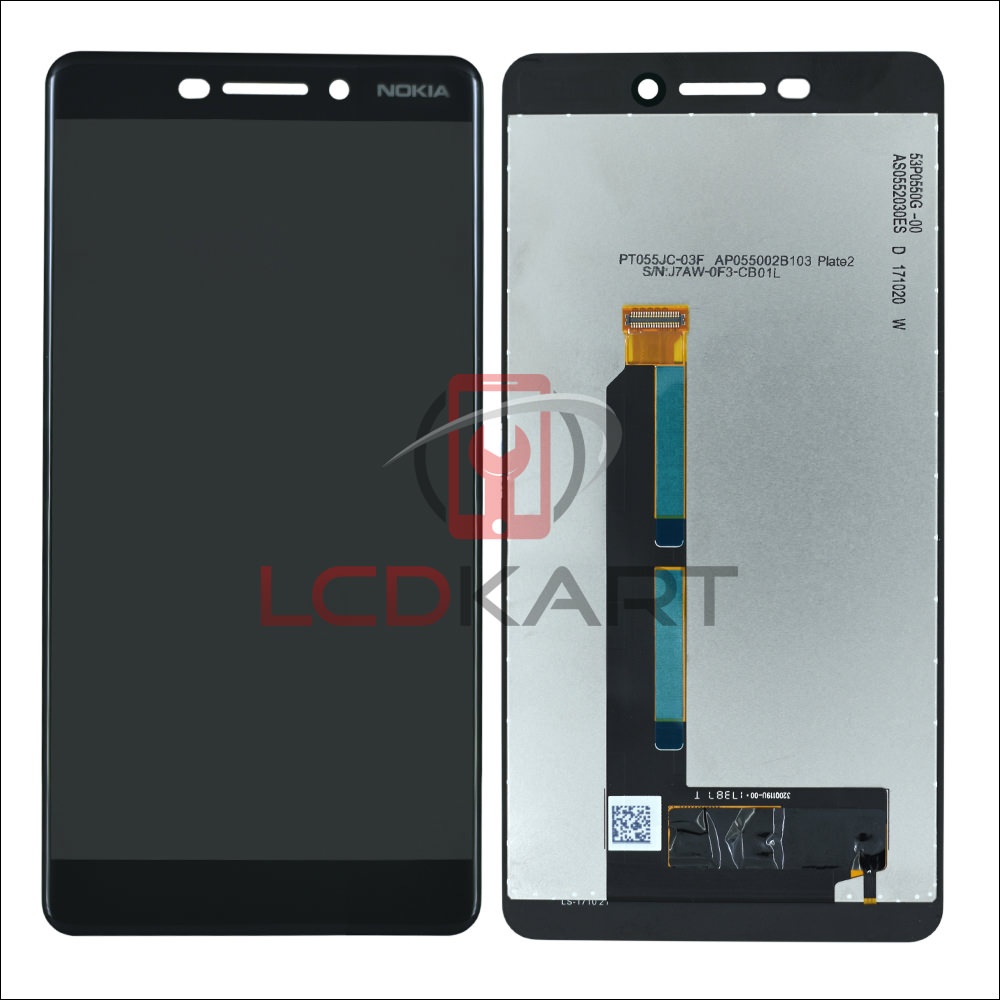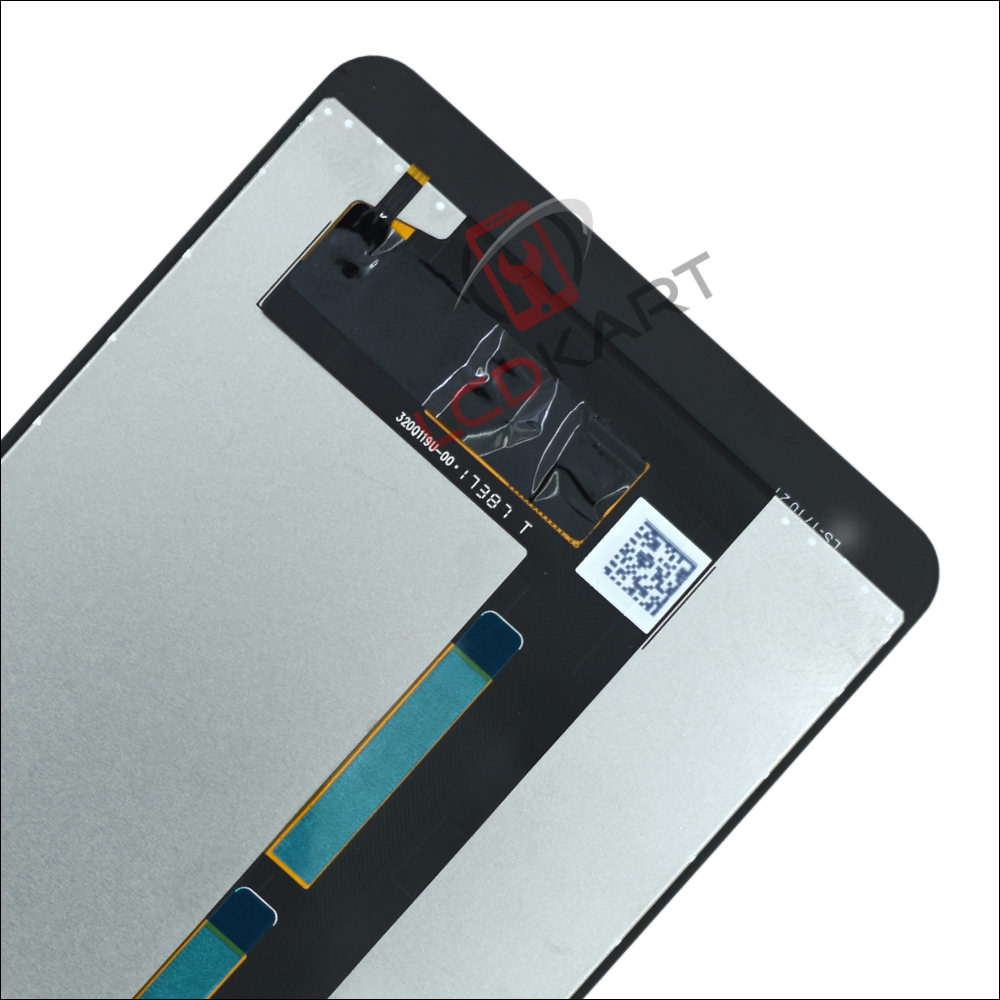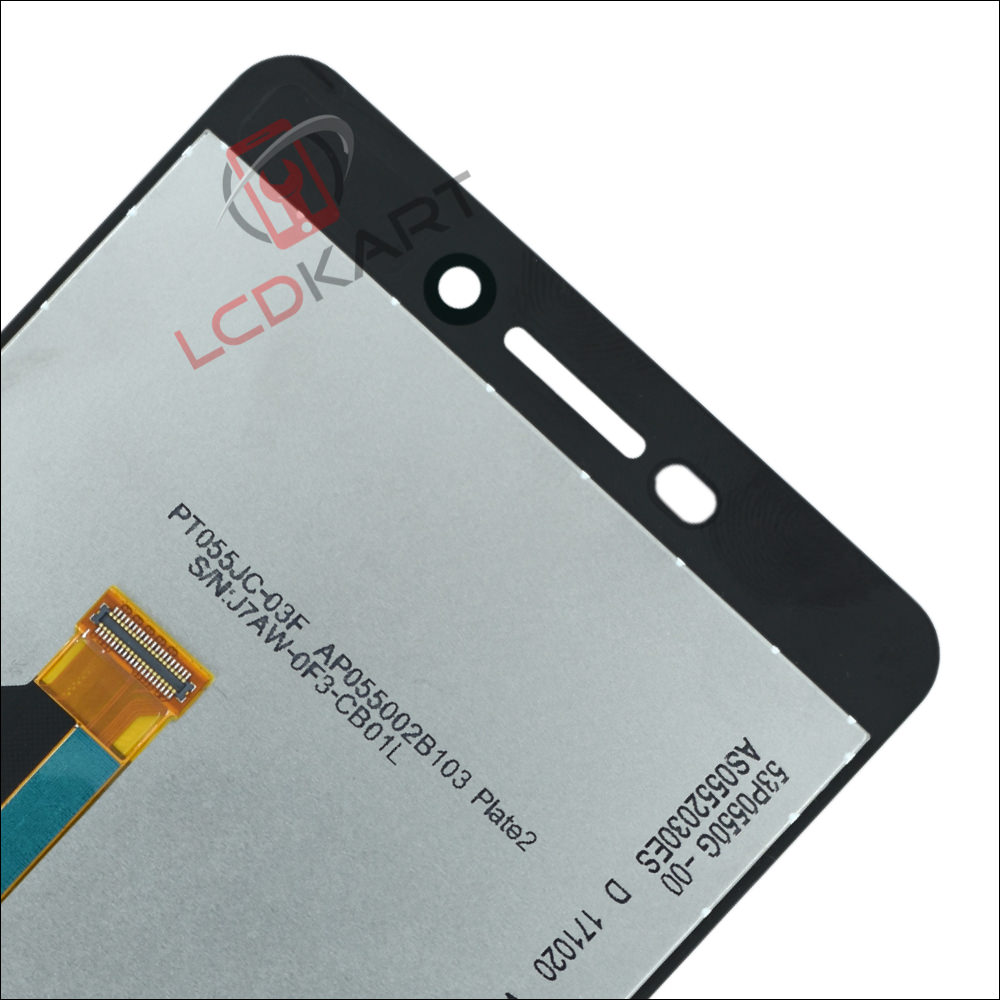 Shipping, Refund and Return Policy
We want you to know about return, refund, and replacement policies so that you don't face any issues later. Our policies help you make the right informed decisions. We don't allow used returns (used products), and everything else is covered under the replacement and return policy. Please visit the Shipping, Return and Refund Policy page for complete information.